FL Studio Producer Edition 20.7.1.1773 Signature Bundle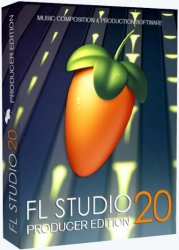 Категория:
Работа с аудио
Версия программы:
20.7.1.1773
Язык интерфейса:
Английский
Платформа:
x86 + x64
Разработчик:
Image-Line
Лекарство:
Патч, кейген
Системные требования:
Операционные системы : Windows 10/8.1/8/7 (32 or 64 Bit)
Процессор : 2Ghz Intel Pentium 4 / AMD Athlon 64 (or later) compatible CPU with full SSE2 support.
(The more powerful your CPU, the more instruments and FX you can run.)
Оперативная память : 4 Gb or more RAM recommended
Жесткий диск : 4 Gb free disk space
Звуковая карта: Soundcard with DirectSound drivers. ASIO/ASIO2 compatible required for audio recording (FL Studio installs with generic ASIO4ALL drivers)
Описание:
FL Studio Producer Edition 20 - это новая версия одной из лучших программ для создания собственной музыки, с её помощью вы можете создавать собственные треки любого стиля. Программа имеет все необходимые функции для работы со звуком : запись, сведение, мастеринг а также имеет большое количество синтезаторов и виртуальных плагинов.

Взяли: 126 | Размер: 986,9 Mb
Последняя активность: не наблюдалась
Раздают:
0
Качают:
0
Скачали:
0
FL Studio Producer Edition 20.7.1.1773 Signature Bundle (2 файла)

fl_patch_installer_20_7_1.exe (83.78 Mb)

flstudio_win_20.7.1.1773.exe (903.12 Mb)
Благодарностей: 3
Похожие торренты